Previous editions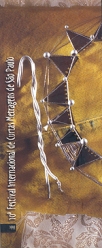 1999 - Ten Years of the Festival
A large retrospective assembles the Festival's best short films in the decade, works ranging from the great talents of the international and Brazilian cinemas to other respected authors who made history in short film. The festival also offered a selection of short films from the French magazine Bref, as this most important publication dedicated to short films was also celebrating a decade of existence.
The Festival honored the animation cinema with special programs dedicated to the American Bill Plympton and the German Jochen Kuhn. The great Orson Welles was paid homage with his short-length works, including "authorial" trailers and several TV series episodes. The Festival began to reveal the first Internet influences on the short film world, with programs about the distribution company Atom Films and the festival Dfilm, both virtual. Finally, the Brazilian Panorama breaks new records: 108 short film submissions (66 selected) from 13 states, out of which 53% were first-time directors.