Previous editions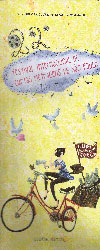 see the website
2011 - Plurality

The short film format renews itself; there are more filmmakers every year, a fact reflected in figures on the applications received in the 2011 edition. The programming of the 22nd Short Film São Paulo International Festival Edition proposed new ideas and dialogue about this fascinating was of making cinema.

Thanks to sponsorship by Petrobras and Avon, we have presented the "Feminino Plural" exhibition, a homage to female audiovisual producers, who have presented us with their views on the most plural themes which involve the feminine essence.
The Fashion Curtas program proposed a dialogue between audiovisual and fashion, and it presented a selection of movies produced by fashion designers or ordered to filmmakers and video artists.

The most representative works created at Kinoforum Workshops were screened at the program's 10th anniversary celebration exhibition. Besides, KinoOikos Exhibition, presented online, brought productions made by several entities.
To represent the global scenario, the Short Films Festival had partnerships with international festivals and institutes. A selection of movies screened at Cannes' Critics' Week, as well as a program celebrating Cuba's School of Film's 25 anniversary, were among films screened at the special program.